The EU has drafted legislation that aims to strengthen the bloc's hand in taking action against the UK over possible breaches of the Brexit Withdrawal Agreement and EU-UK trade deal.
It comes weeks after the UK government presented legislation to give ministers powers to override elements of the Northern Ireland Protocol, which was jointly agreed by the UK and EU as part of the Brexit Withdrawal Agreement to keep the Irish land border free-flowing.
Fine Gael MEP for Ireland South Seán Kelly has been appointed lead author in finalising the draft legislation, which looks at the measures contained in the post-Brexit trade deal on what retaliatory action can be taken if one side does not adhere to its obligations.
"So basically, we will put on the table the steps that will be taken if they continue down this path, and giving the opportunity to the Commission on how to do it," he told the PA news agency.
"They will see that there's no messing here, we're not bluffing, that once you cross the rubicon, there are consequences."
Kelly said the UK under Prime Minister Boris Johnson has become "an unreliable diplomatic partner," and that the EU needs the appropriate tools to protect itself.
"The UK is not coming to the table and they're playing games for political reasons," Kelly said.
"They're pretending they can solve everything and it's no big deal, and they can break international law and it's no big deal, and they can ignore the result of the Northern Ireland Assembly elections where a majority were in favour of the protocol and it's no big deal," he added.
"I would hope and I almost believe that the UK would pull back from the brink."
He said that negotiations about red and green lanes would follow if the UK did pull back from introducing legislation that seeks to change the Northern Ireland Protocol.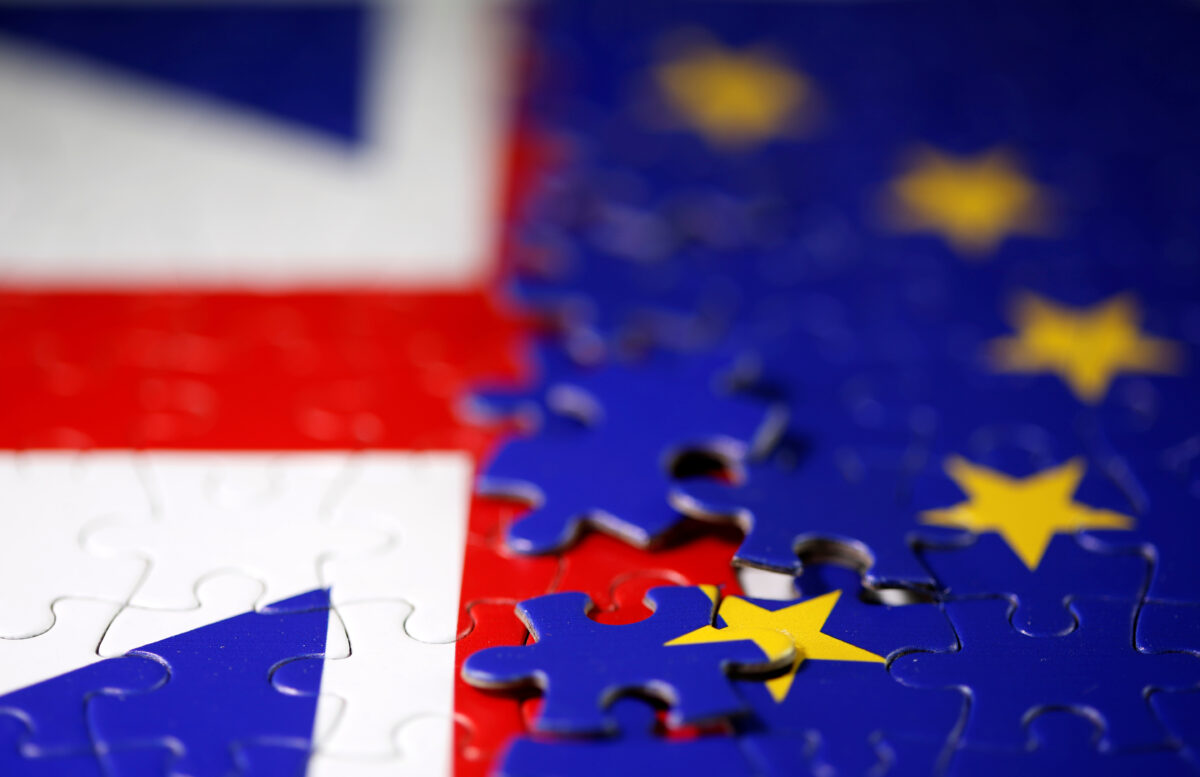 When asked whether the EU expected this unilateral response from the UK after years of fraught Brexit negotiations, Kelly said: "You were kind of … but you were thinking that it was a bit too extreme for a responsible government to break its own word."
"'Take back control' was a wonderful phrase that meant nothing," Kelly added.
The draft regulation establishes rules and procedures to govern the EU rights under both Brexit agreements, which if triggered if may result in the suspension of certain obligations under the agreement concerned.
"If there are breaches to the agreed trading conditions, with this regulation the Commission will have the power to impose restrictions on trade, investment, or other activities falling within the scope of the Trade and Cooperation Agreement," he said.
"The bill in the House of Commons has to go through two or three hearings and they could take ages, so we'll be finalised in plenty of time if the doomsday scenario transpires, and they'll know where we stand."
The European Council and European Parliament would then have to approve the actions that are to be taken.
Kelly said that this would prevent a further "gaffe" when the European Commission controversially suggested in early 2021 that Article 16 of the Protocol could be triggered in response to a row with the UK about COVID-19 vaccine supplies.
"So that won't happen on this occasion, everything will be above board, according to the treaties," he said.
When asked about reports of an EU "hit list" of tariffs that would hurt Johnson in key constituencies, Kelly said that he hadn't heard of that.
"I doubt very much if that would be the way, [tariffs] would have to be all-embracing, they would have to be dealt with equally.
"I'd say it would be hard to do and it would be maybe a little bit petty too perhaps, at this point."
When the draft legislation is finalised in the coming weeks, the European Parliament's report on the new regulation will be presented for vote at committee before progressing to a full plenary vote.
'An Angel in Disguise': Strength Disguised as Weakness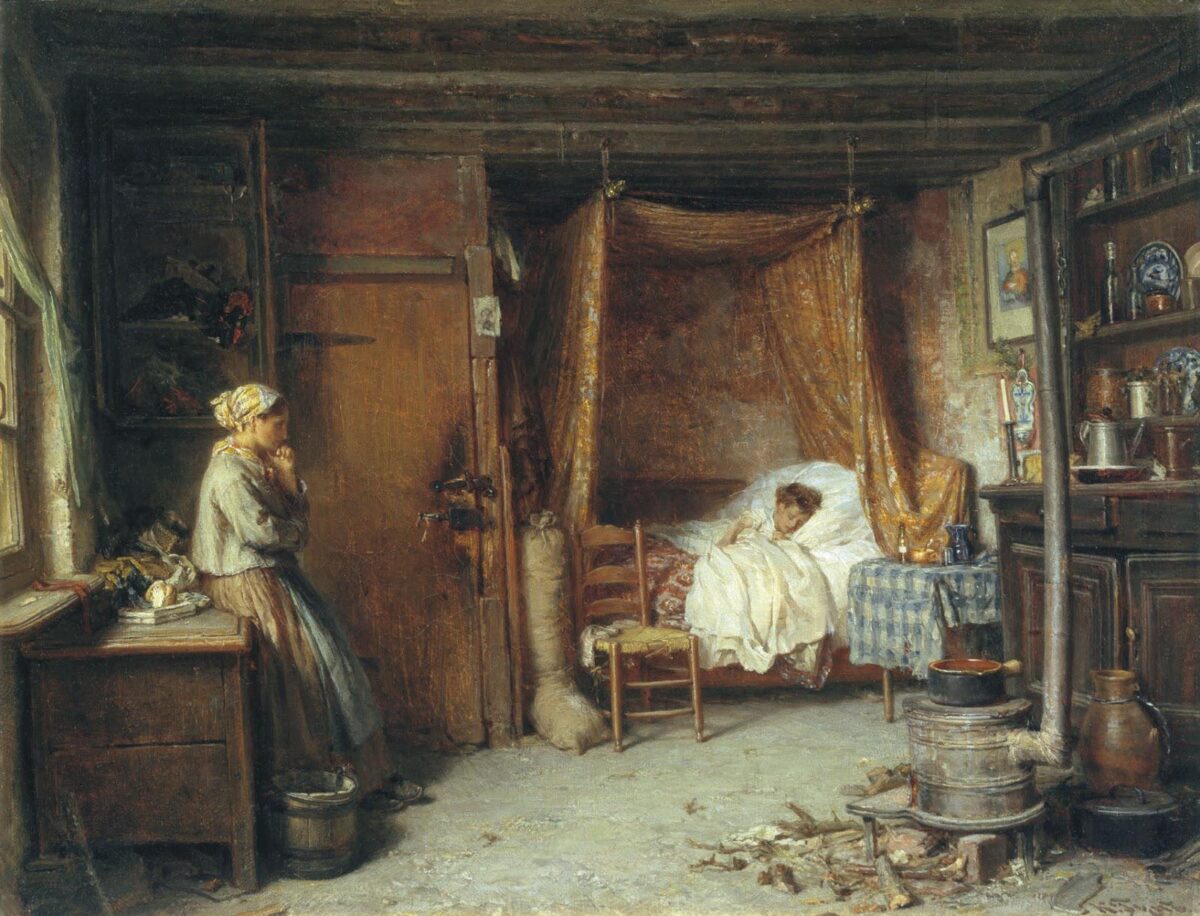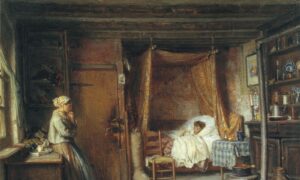 When we think of heroes, we think of strong, brave men like Alexander the Great or Charlemagne. Such men overcome weakness and vice and learn self-control. They face trials that test their worth and overcome the desolation and misery of evil.
Yet, in his short story "An Angel in Disguise," T.S. Arthur proves that such virtues are not always found in the strongest or most courageous people. Sometimes the greatest love, bravery, and strength are found in the weakest among us.
Arthur presents crippled, little Maggie. With her mother dead and her siblings taken from her, Maggie can  only lie in bed. Arthur illustrates "the loneliness, the pain, the sorrow that must be on all her coming life." Such a bitter situation might produce anger and ill temper, but she never curses her situation, even though none of the neighbors will take her, "a bed-ridden child."
Yet Maggie's innocence, perseverance, and absolute helpless state do affect one neighbor, Mr. Joe Thompson. The energy in Maggie's frail figure touches and inspires him. He sees, as G.K. Chesterton says in "Moral Education in a Secular World," that "a child is weaker than a man if it comes to a fight or to knowledge of the world; but there is nothing to show that the child is weaker in will or in desire." Despite her physical frailty, Maggie is strong inside and her inner strength shines.
Maggie not only awakens tenderness in Mr. Thompson's heart, but she also softens Mrs. Thompson's angry heart. With a "vinegar-temper," Mrs. Thompson is not "much given to self-denial for others' good." Through a selfish, intemperate, and idle life, Mrs. Thompson had grown sore, cold, and miserable. But, as Mr. Thompson brings Maggie home, he carries a light into the darkness of the desolate house.
Through Maggie's sweetness, Joe gains the courage to stand against his wife's temper and help her live more joyfully. Through Maggie's light-filled presence, Mrs. Thompson rises out of the dark desolation of her selfish, intemperate life and begins to love and care for Maggie. Mrs. Thompson learns, as Thomas Aquinas says, that "to love is to will the good of the other."
Chesterton perfectly describes the situation in "Heretics": "Only the weak can be brave; and yet again, in practice, only those who can be brave can be trusted, in time of doubt, to be strong." While others around her fall victim to doubt, Maggie rises to the challenge and finds strength and bravery in her weakness. She may be crippled, but she is strong enough to endure her plight and shows this strength to those around her.
Though her body might not have the physical strength of an Alexander the Great or Charlemagne, she matches their will and determination. Like them, Maggie leads others to live better, more loving lives. She bravely faces the trials, sorrows, and pain in her life and, ultimately, proves her worth.
Like Maggie, we can be strong, never letting despair or difficulty break us. When we adopt this loving yet fearless quality, we gain that strength. We can face our trials and, despite our weaknesses, prove our worth.
Fauci Finally Gets COVID: The Significance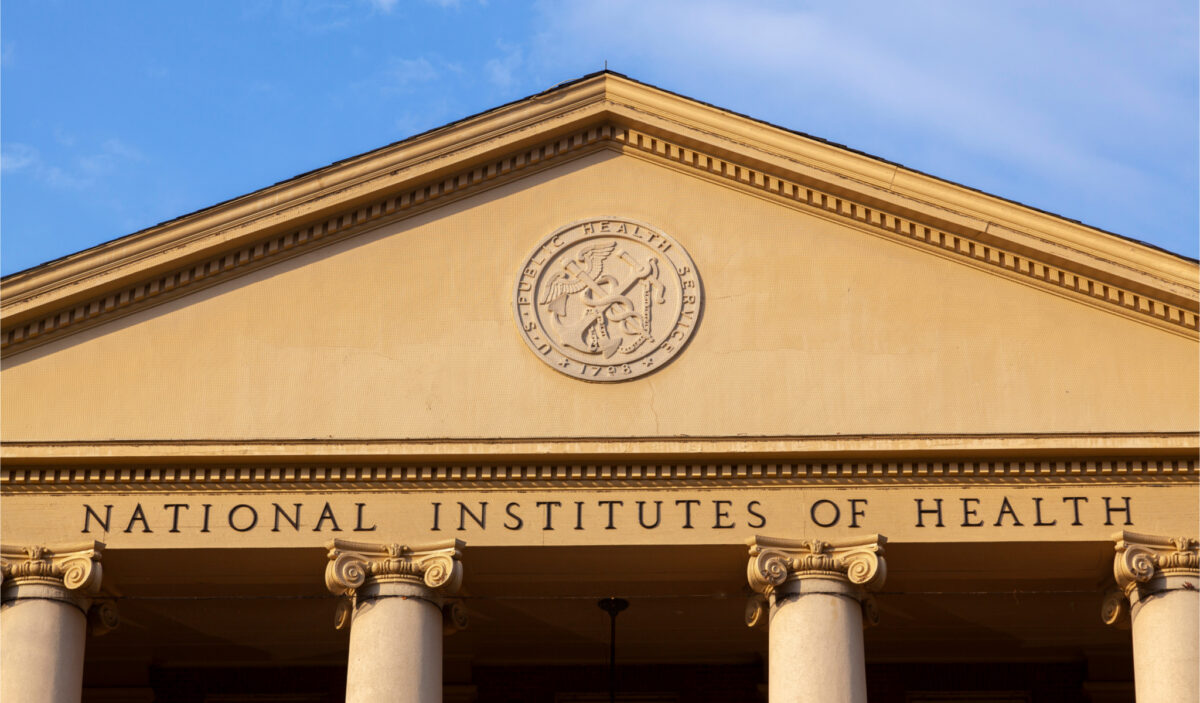 Commentary
What precisely happened in the month of February 2020, when Anthony Fauci and cohorts were plotting their pandemic response, is still a mystery. Jeremy Farrar, of the Wellcome Trust, in his book on the topic says that during these weeks, they went to burner phones, clandestine video calls, and warned family members that something terrible could happen to them.
Their top concern was the possibility of the lab leak from Wuhan. They needed to get to the bottom of it and prepare the spin. We know that the initial draft of the academic article denying the lab leak came out Feb. 4, 2020, later published in the Lancet on March 16. But what happened in these three weeks—apart from the mid-February NIH junket to China to learn how to control a virus—remains foggy.
But this much we do know: by March 2, 2020, Fauci had his game plan lined up. Michael Gerson of the Washington Post wrote him on that day and asked about the purpose of social distancing. This was weeks before most Americans had even heard this euphemism for forced human separation. Was the idea to wait for a vaccine, Gerson asked?
Fauci answered in a private email as follows:
"Social distancing is not really geared to wait for a vaccine. The major point is to prevent easy spread of infections in schools (closing them), crowded events such as theaters, stadiums (cancel events), work places (do teleworking where possible …. The goal of social distancing is to prevent a single person who is infected to readily spread to several others, which is facilitated by close contact in crowds. Close proximity of people will keep the R0 higher than 1 and even as high as 2 to 3. If we can get the R0 to less than 1, the epidemic will gradually decline and stop on its own without a vaccine."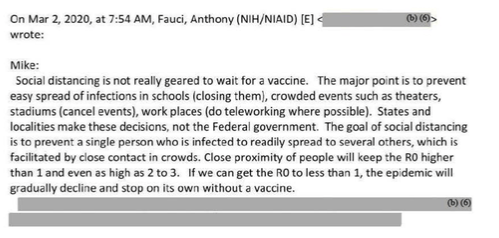 There we have it: the Fauci theory of how we get rid of the virus. We don't need a vaccine. Just close things. Stay away from people. Don't gather. Shut schools. Lock businesses and churches. All people stay away from all people. The R-naught will drop.
Then the virus will… and this is where the theory gets murky. Does it just vanish? Get bored? Get frustrated, give up, and vanish into the ether? And how long does this new social system of "social distancing" have to last? Years? Forever? And what happens once people start acting normally again?
This is very clearly crank science, one that confuses ex post data collection with causation itself and also seems to deny the workability of the human immune system. That such things would be written by a person in Fauci's position is truly mind boggling. But the press went along, and still does after all this time.
What Fauci was imagining—and very few people picked up on it at the time—was the construction of a new social system. It was not just about this virus. It was about all pathogens and the whole functioning of society. He believed—or he decided to come to believe—that a re-engineering of the social order could successfully beat back common pathogens and bring about universal health.
He finally revealed this in his Aug. 15, 2020, article for Cell that received very little attention at all. He was on his own attempting to implement an entire new social system based on a new ideology.
Living in greater harmony with nature will require changes in human behavior as well as other radical changes that may take decades to achieve: rebuilding the infrastructures of human existence, from cities to homes to workplaces, to water and sewer systems, to recreational and gatherings venues. In such a transformation we will need to prioritize changes in those human behaviors that constitute risks for the emergence of infectious diseases. Chief among them are reducing crowding at home, work, and in public places as well as minimizing environmental perturbations such as deforestation, intense urbanization, and intensive animal farming.
This article reveals the most important point. The pandemic response was not just about this one pathogen. It was about what amounts to a political, economic, social, and cultural revolution.
It's not socialism or capitalism. It's something else entirely, something very strange, like a Rousseauian technocracy, simultaneously primitive and high tech, as managed by a scientific elite, an untested dystopia worthy of the most terrifying literature in the English language.
No one has voted for such a thing. It is something Fauci and his friends dreamed up on their own and deployed all their enormous power to enact just as a test, until it fell apart. The United States and many parts of the world were in their grip for the better part of a year and two years in some places.
This is a scandal for the ages, one that far outstrips issues of tax-funded gain-of-function research, as important as that is. It's even more important that reports that Fauci has been earning personal royalty payments from pharmaceutical companies that receive grants that he has personally approved. The real problem comes down to his power and the ability of elected representatives and courts to control him for many decades.
Regardless of Fauci's millenarian vision, the course of the virus took the usual path but for one major exception: the waves of infection occurred based on class rank in society. There was a political hierarchy of infection that started with the working classes, moved to the bourgeoisie, hit the professional classes, then high-end journalists, and finally, at the very end came for the elite ruling class itself—Trudeau, Psaki, Ardern, Gates, and finally Fauci—regardless of their multiple vaccines.
And here is why Fauci's COVID infection is significant, 28 months after the first lockdowns. It's a sign and symbol that his entire theory of virus control was wrong. He got his way with policy and it did not work. The virus finally landed on him, as if to reenact Edgar Allan Poe's fictional story of Prince Prospero in his castle that he believed would protect him.
And as a result of his exposure, Fauci will surely (unless his repeated injection of the same vaccine harmed the operation of his immune system) gain the natural immunity that is already possessed by 78 percent of kids and likely two thirds of the general population.
It should also alert us to three points of moral urgency:
We need to replace Fauci-style feudalism with a new theory of how to reconcile the freely functioning society with the presence of infectious disease, so that neither he nor people in his pay or sway can attempt this again.
We need to act to disable the unmitigated power of administrative-state bureaucrats to seize control of the machinery of government.
We need a new system to decentralize science away from privileged elites so that they can never again have monopoly control over what is considered to be the science much less posses the power to censor dissent.
These are the lessons, at least the start of them. This virus is either endemic or at least almost so, but we are left with astonishing social, cultural, and economic destruction from Fauci's attempt to implement an experimental plan on the whole population not only in the United States but all over the world.
We will suffer for many years or generations from it. And yet, in the end, infection is individual and probably unavoidable for most people. The immune system adapts. That's how we evolved to coexist. To pretend otherwise is the very essence of denying the science.
From the Brownstone Institute
Views expressed in this article are the opinions of the author and do not necessarily reflect the views of The Epoch Times.
GOP Lawmaker Seeks to Punish Those Responsible for Police K9 Deaths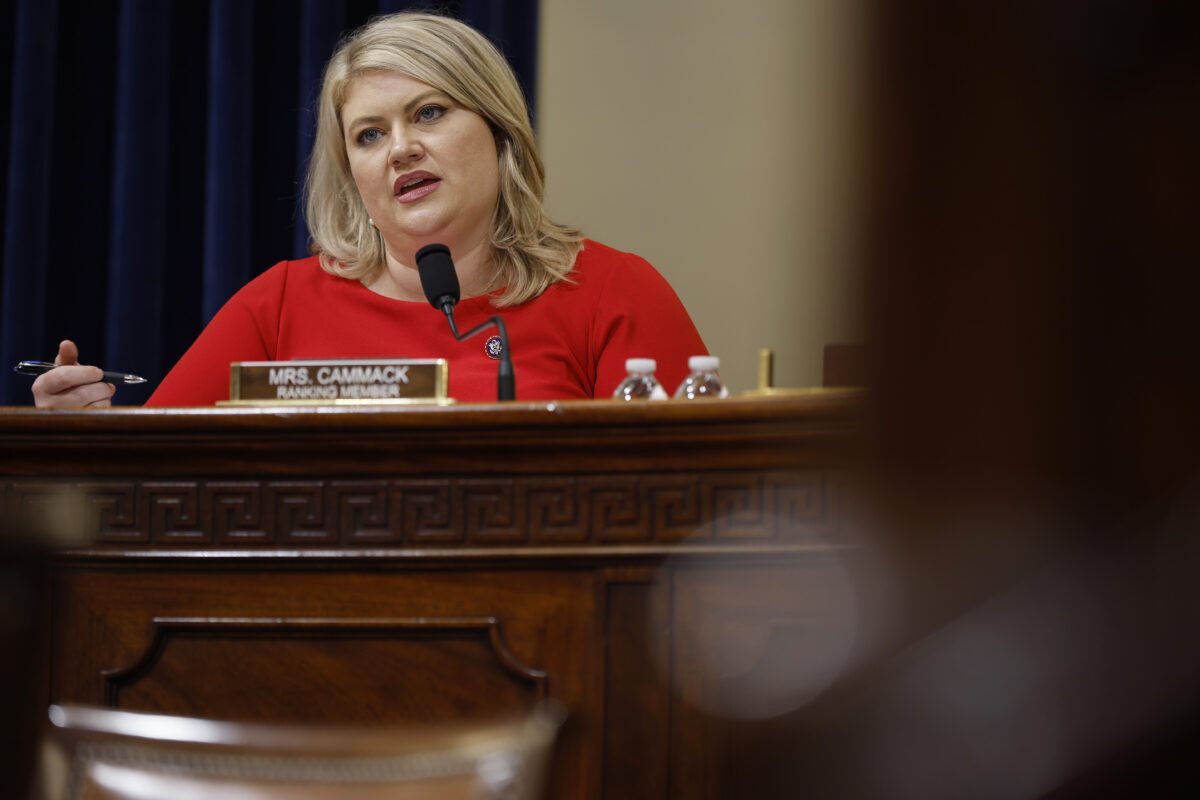 A Republican lawmaker is seeking to punish the perpetrators of police K9 deaths, and she's also promoting a plan for officers to help get addicts off the streets. Those measures form part of the congresswoman's efforts to stand up for law enforcement officers who she says deserve support from Americans, despite the left's narratives against them.
Rep. Kat Cammack (R-Fla.) will soon introduce two bills in support of law enforcement, hoping to boost the morale of all law enforcement personnel in the process. The first she calls "a K9 protection bill." The bill would allow "the federal framework to make the killing of a police K9 a felony," the congresswoman told The Epoch Times.
Each time a canine is lost, Cammack said, it's "tragic" and communities lose their "tremendous contribution" to keeping drugs and criminals off the streets. "A K9's contribution to upholding law and order cannot be matched."
The lawmaker said the second piece of legislation would help "marry the work that our law enforcement does in getting drugs off of the streets to how they are addressing the real challenges of addictions that people are facing."
The bill is essentially an opioid amnesty program for individuals who are addicted and hoping to get clean, Cammack explained. Addicts can turn their drugs and themselves in to law enforcement to be placed into a rehabilitation facility without criminal charges. The legislation will be named after Chief Graham of the Ocala Police Department who started a similar program in Ocala, Florida, before he tragically died in a helicopter accident in 2020.
Cammack said her ultimate goal is to "help people fighting and battling addiction to rebuild their lives and get clean," adding that "this really starts with the law enforcement component." It is also the lawmaker's desire to "get the community to come behind this particular individual to help bridge the gap and get him or her back on their feet."
Specifically, Cammack said this would also involve helping an individual find work, develop skills, and seek mentorship. She is hopeful the two bills will be introduced later this summer.
Support of Law Enforcement
Cammack said her office's support for law enforcement cannot be overstated. Much of her motivation is spurred on by "what's happening across the United States, [specifically] a violent crime rate that is through the roof in both rural and urban America." She added that the opioid and fentanyl crisis is also fueling her support for law enforcement.
"And the only way that we are going to stop the lawlessness in our communities is with law and order," said Cammack. "Our men and women who wear the badge, they're the ones who are upholding law and order in our communities."
The lawmaker considers the left's efforts to defund the police to be ludicrous. Taking the "border invasion" into account, she said, "anyone with common sense call tell you that you cannot protect our hometowns if you can't defend the homeland. She added that "upholding law and order is the country's first and last line of defense."
With support for law enforcement fading in some areas around the country, Cammack said that some officers are feeling "an overwhelming sense of dejection, sadness, and frustration."
"It all stems from the rhetoric, which has been followed closely by the action, of the ultra-liberal left to defund and dismantle our departments."
This has had a far-reaching impact on the police force's ability to operate effectively, she noted. "Sadly, even the pro-law enforcement community doesn't make deputies immune from what's happening around the rest of the country," Cammack said. As a result, the retention rate of some police departments is suffering, she said, adding that in some areas, "getting people interested in the profession is like pulling teeth because it has been so marred by the left."